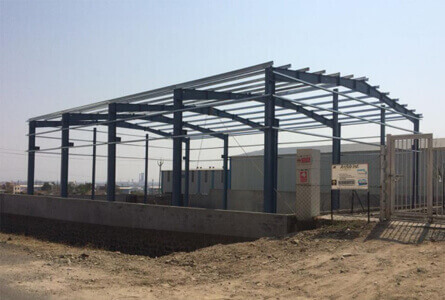 Prefabricated Sheds: the dire need of the modern-day industries
In the modern industrial world, everyone is looking for cost- efficient and robust solutions and due to this reason, PEB Structures Fabrication is quite in trend these days. These sheds are durable, flexible and easy to install. You can use them as factory shed, rooftop sheds or warehouse sheds quite easily. And when you look for premium suppliers of prefabricated sheds then only one name strikes in your mind which is none other than Balaji. Balaji construction is one of the renowned platforms to provide different varieties of prefabricated sheds which can be used in different industries.
Why prefabricated sheets?
Before a decade or two, there was the trend of long-lasting concrete structures but such structures are not feasible in modern times. There are two prominent reasons for that, first, it requires more capital and time to be created and second, you cannot change them as per your requirements. But in the case of prefabricated sheds both the limitations can be resolved. You can easily install the prefabricated sheds within a duration of 2 or 3 days or at most a week because only the installation work is required and if you want to make any changes in the structure of your factory or warehouse then and you can easily reassemble them into a new structure. Due to these features, prefabricated sheds are considered the most feasible solution for modern-day industries.
What makes Balaji the best
In the market, you will found many companies who claim as the best industrial construction companies but they do not have sufficient experience and sound engineering as we have.
● Our work culture and expertise makes us different from others.
● We always use quality raw materials.
● Our approach is time-bound. We work with crazy deadlines and achieve them before time.
● We have highly experienced technicians.
● At Balaji construction, you will always get affordable rates.
● We provide complete after-sales support.
● All sheds prepared by us are 100% waterproof and able to resist adverse weather conditions.
● All sheds are quality tested for their strength.
● We offer ready to dispatch stock in different dimensions and specifications.
● All the products offered by us are highly durable.
● Corrosion-resistant and easy to maintain sheds.
● Complete protection of your products stored inside the warehouse.
● At Balaji construction, you will always get optimum finishing in prefabricated sheds.
● We do not like unwanted delays and always tries for robust installation.
Being the leading industrial construction companies in Pune we are known to provide quality products that are easy to install. On our platform, you will find a large number of designs you can choose any of them or you can order a customised design as well. We always use quality raw materials to provide long life to the Peb fabrication. So if you are looking for any kind of products or services related to industrial construction then come to Balaji construction only. If you want to know more about us you may call us or drop a mail.