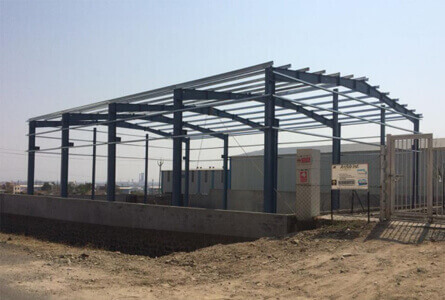 The excerpts of warehouse construction are just a click away from you!
In the modern world, warehouses are in great demand. It becomes an integral part of the logistic value chain. Warehouses allow proper storage of different varieties of products. Hence it becomes quite important that the warehouse should be constructed properly otherwise in future it will bring different complications. So if you are looking for a quality contractor to construct your warehouse then Balaji construction is the right choice. At Balaji, you will get the trust of years and sufficient expertise for different aspects of the construction market. Our qualities make us the best warehouse construction company in Pune.
Important factors that you should consider for warehouse construction
Here are some key points that you should keep in mind before the construction of a warehouse-
● Nature of the products to be stored
Before planning a warehouse the first point that needs to be kept in the mind is the nature of products to be stored. If you are storing highly flammable or hazardous products then you should take optimum safety measures to avoid any misfortune. And if you are constructing the warehouse for perishable goods then there should be proper cooling in your warehouse to ensure that goods would not get spoiled. For constructing any specific kind of warehouse search for Industrial Contractors in Pune.
● The Storage Area
The next important point that you should keep in mind is- how much quantity do you want to store in the warehouse? You need to pre-decide the quantity to make sure that you will get the storage area of the appropriate size.
● Budget
The next important aspect is your budget. You need to decide how much amount you want to spend on the construction of the warehouse. If you have a low budget then also it's not an issue. At Balaji, we provide low budget warehouse construction options as well. Due to this reason, we are known as the most affordable industrial construction platform.
● Maintenance
Your job is not done just by constructing a warehouse. You need to maintain it at a regular interval to ensure proper functioning. So it is important to allot an adequate amount for the maintenance of the warehouse as well.
You cannot trust any random contractor for a dedicated job like warehouse construction. When you look for quality work then you must search for a trustworthy platform that is none other than Balaji because we are known as one of the best industrial construction companies in Pune.
If you are also looking for any kind of warehouse construction then choose Balaji to get something more than your expectations. Besides warehouse construction, we provide quality services for-
● Prefabricated Sheds
● Factory Shed Fabrication Services
● Machine Foundations
● Civil Works
● Industrial Interior Works
● PEB & Heavy Fabrication Works
● Aluminum Work (Facade System)
So, if you are looking for any of the above-mentioned services do not hesitate to call us any time. We would be more than happy to serve you with the best.